Weekly Wrap
ISSUE 22 | 16 NOVEMBER 2021
Tasmania Newest Nbl Team, The Jackjumpers Slam Open The Mystate Bank Arena 
This past Sunday in Hobart the NBLs newest team the JackJumpers played their first ever game at the MyState Bank Arena.
Bastion Experience has worked closely with MyState Bank to negotiate and bring to life two partnerships as MyState Bank becomes the major sponsor of the NBL's newest team the JackJumpers and the naming rights for the home stadium of the JackJumpers, MyState Bank Arena. 
Microsoft Loop Is A New Office App For The Hybrid Work Era
Microsoft launches a new Office app, Loop, which is composed of components from their Fluid campaign and aims to accommodate a new hybrid workplace.
A hub for a new way of working in the office has been introduced by Microsoft. 'Microsoft Loop' has three components consisting of Loop components such as loop pages and loop workplaces, which are accessible across multiple Microsoft platforms and workspaces. The live and collaborative space enables work to live independently while also able to be copied, pasted and shared with others.
Nsw Launches New $10 Million Tourism Campaign Encouraging Post-Pandemic Travel
The NSW government has launched a $10 Million Tourism campaign, titled "Feel New'.
The campaign is set to encourage international and inter-state travel after the state's restrictions have been lifted. It is a part of the nation's $500 million tourism lifeline, to encourage tourism to Australia.
Nike Is Quietly Preparing For The Metaverse
Nike has filed seven trademark applications as it prepares to enter the metaverse.
Nike has filed seven trademark applications as it prepares to enter the metaverse. As part of the application, Nike indicated its plan to make and sell virtual branded sneakers and apparel. Customers can expect to see more and more rollouts in the months ahead as the virtual trend continues and grows.
Netflix Launches Games On Smartphones
Streaming service Netflix has today launched Netflix games globally on mobile. All you need is a Netflix subscription to play the games.
Netflix VP, game development Mike Verdu commented: "Just like our series, films and special, we want to design games for any level of play and every kind of player, whether you're a beginner or a lifelong gamer."
BACK TO TOPICS
Weekly Wrap
ISSUE 20 | 25/10/2021
Amazon Alexa Understands Aussie Vernacular
Amazon Alexa has teamed up with Sophie Monk and The Inspired Unemployed to make sure that key Australian phrases are understood by the device.
Amazon has developed a campaign where 'Alexa' learns Australian phrases and adopts an Aussie sense of humour. In the campaign, Alexa is given more of a personality so the product is seen as more like a mate.
Instagram Launch New Feature Where Users Can Co-Author Posts And Share Likes
Instagram launched a new feature called "Collabs" that lets two users jointly share ownership of a single feed post or Reel.
The post or Reel will appear jointly to each user's followers and will share the same comment thread, as well as view and like counts. Collabs are enabled from the tagging screen, after which the second account will have to accept the invite. This new feature presents an opportunity for brands to create coauthored posts with influencers. The feature is expected to be integrated in Australia by the end of 2021.
Shopify And Spotify Announcement Partnership
Leading commerce platform Shopify has announced a strategic partnership with Spotify. The aim of the partnership is to give artists creative freedom that expands beyond music.
With the announcement of the new partnership, artists are able to link Shopify accounts to their artist page. By connecting their Spotify for Artists account with their Shopify online store, artists can then sync their product catalogues.
It will go beyond the tradition of simply music and merch, and instead build fully realised brands. Spotify is aiming to make a creator economy on the platform. Statistics released by Spotify say that the creator economy is estimated to be worth over $100 billion, with over 50 million creators.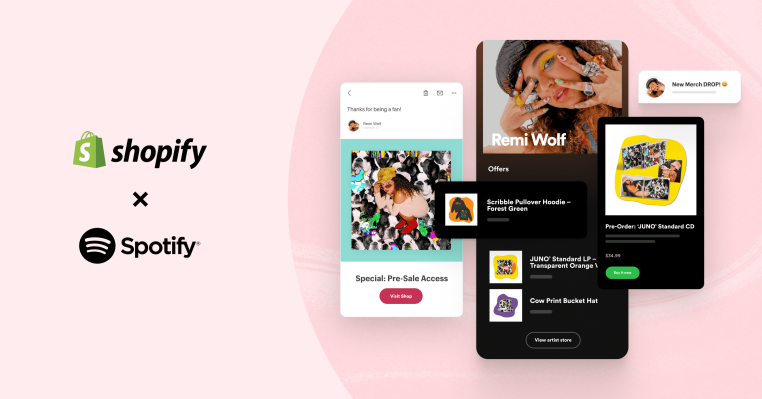 Pinterest Rolls Out Ar Beauty Try On And Shop Similar Feature
Photo sharing website Pinterest has introduced new products and features that focus on e-commerce, including a "Watch" tab and more features designed to make Pinterest more shoppable.
Part of Pinterest's new e-commerce features include an augmented reality (AR) beauty try-on and a "shop similar" feature. AR Try-On is Pinterest's new integrated AR beauty try-on. This new capability allows creators to tag their Idea Pins with a new Try-On sticker to add lip products. Pinterest has also introduced a "shop similar" feature to use Pinterest's visual search technology to recommend Product Pins that are visually similar to the content within the Pin.
Applications Open For Facebook's $15m Public Interest Journalism And Newsroom Fund
Applications have opened for Facebook's A$15 million Australian News Fund as the social media giant pledges to invest in public interest journalism.
Facebook has said the fund will support small, regional newsrooms and independent journalists, as well as newsrooms covering under-served communities. Eligible Australian-based newsrooms and journalists can apply to either or both funds.
BACK TO TOPICS
WE ARE PART OF BASTION
Bastion is a truly integrated, full-service marketing and communications agency founded in 2009. We are Australia's largest independent agency, with an ambition to achieve the same feat in the USA.

We offer a wide breadth of specialist capabilities across the communications spectrum including market research, brand and creative, advertising, corporate and change communications, PR and social media, digital and customer experience (CX), sponsorship and experiential, film and content production, merchandise, Asia marketing and communications, data analytics and panel management.