Weekly Wrap
ISSUE 23 | 22 NOVEMBER 2021
Merivale Is Taking Over Food And Beverage At The Sydney Cricket Ground And Sydney Football Stadium
Hospitality giant Merivale has taken over the catering rights to the Sydney Cricket Ground (SCG) and secured the inaugural catering rights to the Sydney Football Stadium (SFS) for its opening in 2022. Merivale beat out 14 other hospitality companies for the contract and will employ over 1,000 staff across the two venues. The six-year rights agreements will see Merivale provide food and beverage at the two premier Sydney venues until at least 2027.
Taking a step up from the standard stadium fare, the venues will now offer options such as spring rolls, noodles, pizza, and gelato, with Merivale's team of executive chefs coming together to shape the offering. While there will also be iterations of several Merivale venues littered throughout both the SCG and SFS, with spinoffs of the Coogee Pavilion and French brasserie Felix already confirmed for the SCG offering.
Nike Creates NIKELAND On Roblox
Nike has recently launched NIKELAND on Roblox. The immersive 3D world uses Nike's world headquarters as a backdrop and encourages users to connect, create, share experiences, and compete, building on the brand's goal of turning sport and play into a lifestyle. The launch of NIKELAND will be brought to life in December through a custom Snapchat lens at Nike's House of Innovation in New York City.
NIKELAND will be free for anyone on Roblox to use and interact within, breaking down one of the biggest barriers to sport globally – accessibility. While it will also offer other exciting features such as games, including tag and dodgeball, a creator toolkit for users to create their own mini-games and an ability to connect to real life movement through accelerometers in mobile devices, encouraging users to get more active.
Latest On Crypto.com Arena And The Enormous Venue Naming Rights Deal
The STAPLES Centre, home of the LA Lakers and LA Clippers NBA teams, is set to undergo a name change, with Crypto.com signing a massive 20-year naming rights agreement worth upwards of US$700 million. The deal is one of the largest ever in professional sporting history and is believed to be the largest naming rights agreement in US history.
The venue will be rebranded as Crypto.com Arena from Christmas Day, with the Lakers hosting the Brooklyn Nets in the first game in the renamed stadium. All other venue signage is expected to be updated to Crypto.com branding by June of 2022. While the operator of the stadium, AEG, are still working through the exact extent of the partnership with Crypto.com.
Optus Sport Extends Lucrative EPL Rights Until 2028
Optus Sport have ended speculation about the lucrative English Premier League broadcast rights, signing a new agreement that will see them retain the rights in Australia until the end of the 2027/28 season. This is the second time that Optus have won the bidding to retain the broadcast rights, after they initially overtook the deal from Foxtel in 2015 and renewed it in 2018. The telecommunications brand has also retained the rights for the FA Women's Super League until the end of the 2023/24 season.
The race for the rights to one of the most watched sports leagues in the world was hotly contested, with the saturated sports streaming market in Australia resulting in significant interest from several parties. Given the fierce competition, Optus CEO Kelly Bayer Rosmarin said the brand was "thrilled to be able to significantly extend their exclusive partnership with both the Premier League and FA Women's Super League".
Cooper's Welcomes Victorians Back To The Pub
In celebration of the end of the longest 'dry spell' in the world, Coopers Brewery have created a huge welcome mat installation in Melbourne's north. After spending a total of 267 days in lockdown, Coopers welcomed Melbournians back to the pub with a huge, beer-soaked welcome mat made of pub carpet outside the Terminus Hotel in Fitzroy North.
Tiktok Launches Major Brand Campaign Featuring Martha Stewart
Fast growing social media giant TikTok has launched a new brand campaign in Australia, featuring Martha Stewart alongside a number of well-known creators from the platform. The campaign, titled 'You Have to See It', showcases the storytelling affordances of the platform, while also highlighting popular content, such as baking tips, cleaning hacks and DIY videos.
The campaign focuses on the wonder, joy and hilarity that ensues when TikTok fans try and describe their favourite videos to their friends, capturing the theme that 'you have to see it'. The ad spots will run across different mediums, from free to air TV and on-demand video services to online videos and cinema screens.
BACK TO TOPICS
Weekly Wrap
ISSUE 21 | 8 NOVEMBER 2021
Best&Less Tells Aussies "Christmas Is Gonna Be All Bright" In New Campaign
Australian apparel retailer Best&Less has looked to reinforce its position as a family focused retailer, brightening spirits across the country with the launch of their new Christmas campaign. The campaign, titled 'Christmas is gonna be all bright', aims to focus on all that makes Christmas one of the most enjoyable times of the year – from family time and matching festive attire, to opening presents and summer weather.
The campaign follows three separate families on their Christmas day journey, from camping outside to relaxing by the pool, before they all come together at the end of the day to celebrate. The settings and props used throughout the campaign constantly reinforcing the positivity of Christmas and family, all while capturing the uniqueness that is an Australian Christmas.
The Easing Of Restrictions Points To A Major Shift In Customer Needs, Are You Prepared?
The ever changing consumer behaviour that the COVID-19 pandemic has induced has meant the ability to stay agile has become increasingly important for brands. Brands have constantly been forced to look to their communications and brand offerings to ensure they are catering to the evolving demands of the market.
A recent survey conducted by Shopper Media revealed that 47% of consumers plan on making significant purchases now that lockdowns have ended. While 59% flagged a desire for larger scale purchases to be made in-person, highlighting the great potential for a sudden upswing in demand. To leverage this uplift in demand it will be imperative that brands are prepared for heightened demand and are ready to engage consumers across a number of different channels and mediums.
Facebook Rebrands To Meta
Technology giant Facebook has rebranded itself to Meta, in reference to the digital world metaverse. For CEO Mark Zuckerberg the name change symbolises 'that there is always more to build, and there is always a next chapter to the story'. Zuckerberg views the metaverse as having a major commercial opportunity, a place to sell to virtual people in a virtual world.
The Meta brand name will encapsulate the Facebook, Instagram and WhatsApp social media platforms, as well as virtual reality offering Oculus.
Gaming Is The Most Popular Genre Of Influencer Content In The Apac
A new study released by YouGov has shown that gaming influencers are the most popular influencer demographic amongst Asia Pacific consumers. With gaming influencers ranking in the top three influencer categories in most APAC markets.
In explaining their findings, YouGov highlighted the continued growth in video gaming culture of the past two years has skyrocketed gaming influencers into the upper echelon of pop culture status. With what was once a casual pastime growing to a primary form of entertainment and social engagement amongst a vast array of people. Influencers have been able to capitalise on this, finding ways to interact and connect with fans across multiple platforms and ingraining gaming further in people's everyday lives.
Nib's Equal Split Of Men's And Women's Sponsorship
nib Group has made a commitment to equal representation across men's and women's sporting partnerships. This commitment has been realised through the group recently signing on as the principal partner of the Newcastle Knights NRLW team and the Auckland Blues women's team, while they have also extended their partnership with the Richmond AFLW team.
Director Ed Close has stated that the commitment to equal representation is part of nib's broader commitment to diversify and appeal to a wider variety of individuals across Australia and New Zealand. With the partnerships now meaning that NIB's sponsorship portfolio is a better reflection of the communities within which the group operates.
Woolworths Partners With Arn For New In-Store Audio Offering
Woolworths has partnered with the Australian Radio Network (ARN) to introduce a custom in-store offering for shoppers and advertisers alike. The partnership has seen the iHeart Radio network working with Woolworths to develop a number of bespoke radio stations that can be played in-store.
The new radio stations will be aimed at targeting various customer demographics, with time of day and geographical location factored into the various offerings in an attempt to elevate the customer shopping experience. While the radio stations will also employ automatic ad-insertion technology to allow advertisers and brands to reach customers in a more personalised manner – with opportunities to execute campaigns almost instantly and target single stores or wider geographical demographics.
BACK TO TOPICS
Weekly Wrap
ISSUE 20 | 25/10/2021
Amazon Alexa Understands Aussie Vernacular
Amazon Alexa has teamed up with Sophie Monk and The Inspired Unemployed to make sure that key Australian phrases are understood by the device.
Amazon has developed a campaign where 'Alexa' learns Australian phrases and adopts an Aussie sense of humour. In the campaign, Alexa is given more of a personality so the product is seen as more like a mate.
Instagram Launch New Feature Where Users Can Co-Author Posts And Share Likes
Instagram launched a new feature called "Collabs" that lets two users jointly share ownership of a single feed post or Reel.
The post or Reel will appear jointly to each user's followers and will share the same comment thread, as well as view and like counts. Collabs are enabled from the tagging screen, after which the second account will have to accept the invite. This new feature presents an opportunity for brands to create coauthored posts with influencers. The feature is expected to be integrated in Australia by the end of 2021.
Shopify And Spotify Announcement Partnership
Leading commerce platform Shopify has announced a strategic partnership with Spotify. The aim of the partnership is to give artists creative freedom that expands beyond music.
With the announcement of the new partnership, artists are able to link Shopify accounts to their artist page. By connecting their Spotify for Artists account with their Shopify online store, artists can then sync their product catalogues.
It will go beyond the tradition of simply music and merch, and instead build fully realised brands. Spotify is aiming to make a creator economy on the platform. Statistics released by Spotify say that the creator economy is estimated to be worth over $100 billion, with over 50 million creators.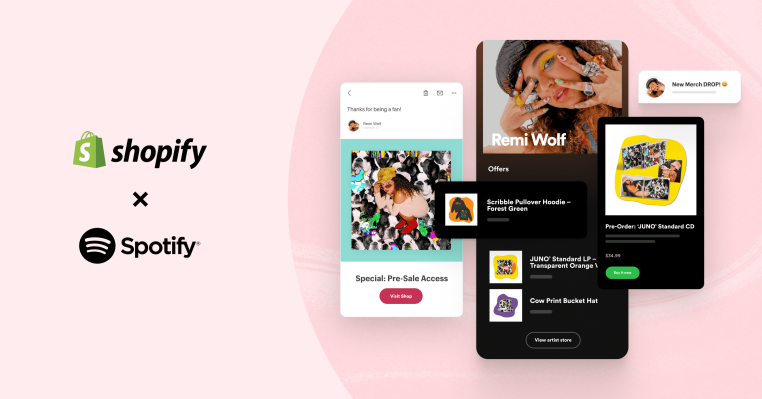 Pinterest Rolls Out Ar Beauty Try On And Shop Similar Feature
Photo sharing website Pinterest has introduced new products and features that focus on e-commerce, including a "Watch" tab and more features designed to make Pinterest more shoppable.
Part of Pinterest's new e-commerce features include an augmented reality (AR) beauty try-on and a "shop similar" feature. AR Try-On is Pinterest's new integrated AR beauty try-on. This new capability allows creators to tag their Idea Pins with a new Try-On sticker to add lip products. Pinterest has also introduced a "shop similar" feature to use Pinterest's visual search technology to recommend Product Pins that are visually similar to the content within the Pin.
Applications Open For Facebook's $15m Public Interest Journalism And Newsroom Fund
Applications have opened for Facebook's A$15 million Australian News Fund as the social media giant pledges to invest in public interest journalism.
Facebook has said the fund will support small, regional newsrooms and independent journalists, as well as newsrooms covering under-served communities. Eligible Australian-based newsrooms and journalists can apply to either or both funds.
BACK TO TOPICS
Weekly Wrap
ISSUE 19 | 18 OCTOBER 2021
Sydney Gay And Lesbian Mardi Gras Announces 3 Year Partnership With American Express
American Express and Sydney Gay and Lesbian Mardi Gras have announced that they have entered into a historical three-year principal partnership. The partnership, which runs until 2024, will see American Express as the principal partner of the Sydney WorldPride event in 2023 – widely tipped to be the largest event Sydney has hosted since the Summer Olympic Games in 2000.
While the partnership will feature support of major events, such as Sydney WorldPride, it is also hoped that local businesses can be reinvigorated post lockdown. With American Express and Sydney Gay and Lesbian Mardi Gras commiting to inspiring and incentivising spending at local Sydney businesses, in particular at local queer spaces.
Optus Augmented Reality Engages Thousands Of Wafl Fans
The telecommunications giant designed an augmented reality fuelled, in-stadium experience allowing fans of the game to create a lifelike avatar of themselves and put on their favourite team's kit and colours.
To do this, consumers scanned a QR code and took a quick selfie, which was then transformed into the avatar. The digital characters could be shared via social media channels, and those at the game also had the ability to upload a photo of a friend if they weren't in attendance. This was not only an engagement tool, but the activation was designed to showcase 5G network capabilities provided by Optus at the stadium.
#Empowermoves Is A Tiktok Dance With A Difference
A new trend has emerged on TikTok – #EmpowerMoves. The dance trend, which has been created in partnership by TikTok and UN Women Australia (UNWA), may appear to be a standard run of the mill TikTok dance but has a key difference. With the moves is actually a series of basic self defence actions.
The concept behind #EmpowerMoves is a movement allowing girls to show their strength and support for a safe future. The viral dance trend, which features a series of four dances choreographed by Karla Mur, has already been viewed over 10 million times.
Blackmore Launches 'good Health Changes Everything' Campaign
According to the Australian Institute of Health and Welfare's report, The first year of COVID-19 in Australia: direct and indirect health effects, millions of Australians have been left feeling worse than before the pandemic regarding their physical and mental wellbeing. This is compounded by the Accenture COVID-19 Consumer Pulse survey highlighting 75% of respondents agreed a lasting societal impact will 'increase the focus on health'.
The 'Good Health Changes Everything' is an empowering celebration of what good health means to consumers and the role that Blackmores products can play in supporting their health and wellbeing goals.
​​
The Future Of TV Campaigns Is A Measurable One
On average, Australians spend 51 hours per month watching linear TV and 88 hours streaming content. This means when reaching audiences on the big screen, marketers have to think beyond linear TV alone. A key solution for this is Connected TV advertising which allows brands to reach audiences that marketers cannot reach through a linear TV campaign.
The ability to apply the sophisticated measurement and targeting capabilities of digital marketing into the TV environment has attracted a large interest from media planners and brands. They're seeing the potential of TV's reach, combined with the measurability of digital, and are doubling down.
Hybrid Events: Worth The Effort?
Event marketing has gone through somewhat of a revolution during the COVID-19 lockdowns, with social distancing, remote working and restrictions meaning that in-person events have been replaced by online versions. However, as restrictions have eased and in-person gatherings have returned in some capacity, hybrid events have also become a popular medium used by experiential marketers.
Hybrid events are those that merge in-person and digital events together, with the event occurring live for in-person attendees but then also captured virtually for those online to view in real time. While hybrid events can increase the reach and engagement with an event, they also have a risk of becoming dull as online fatigue continues to set in.
BACK TO TOPICS
WE ARE PART OF BASTION
Bastion is a truly integrated, full-service marketing and communications agency founded in 2009. We are Australia's largest independent agency, with an ambition to achieve the same feat in the USA.

We offer a wide breadth of specialist capabilities across the communications spectrum including market research, brand and creative, advertising, corporate and change communications, PR and social media, digital and customer experience (CX), sponsorship and experiential, film and content production, merchandise, Asia marketing and communications, data analytics and panel management.